A Further Look | May 17, 2023
A Call for Leadership
David B. Root, Jr.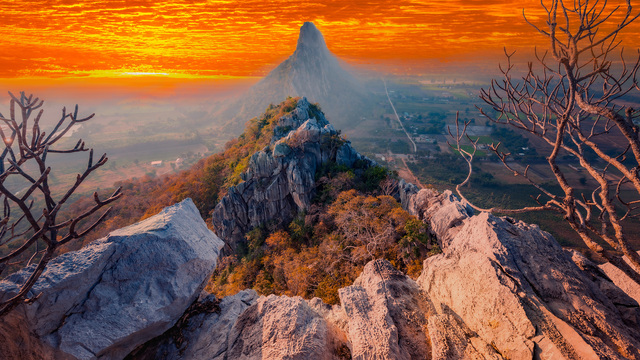 "Sometime before the year 2025, America will pass through a great gate in history, commensurate with the American Revolution, Civil War, and the Great Depression and World War II. The risk of catastrophe will be very high. The nation could erupt into insurrection ... crack up geographically or succumb to authoritarian rule." — Neil Howe, The Fourth Turning
Neil Howe is a historian, economist, and demographer, and a leading authority on generational trends. Among his many notable contributions is coining the term "Millennial Generation." He is also the Managing Director of Demography at our research partner, Hedgeye. His insights assist us in understanding how topics such as consumer preferences, population changes and forecasts, and the public mood might impact markets and the portfolios we manage. His book, the Fourth Turning, has served as a prophecy for tumultuous periods in America, and has proven to be a source of critical debate for several years.
In his book, Howe breaks down a series of cycles that have come together to compose our nation's history. Each cycle lasts approximately 80 years and comprises four turnings, or distinct 20-year stages characterized by a unique economic, social and political climate. The Fourth Turning of each of these cycles has represented a crisis; The American Revolution, The Civil War, World War II and potentially now, as Howe seems to believe, the turbulent time we live in today. He defines each turning as follows: The first turning is called a high, the second turning is the awakening, the third turning is the unraveling and the Fourth Turning is a time of crisis.
While the thought of either approaching or being in the midst of a fourth turning might seem grim, the outcome of these cycles, as Howe points out in the book, is ultimately positive: All fourth turnings lead to a better standard of life in America. That's why I remain optimistic today. However, my optimism is not based on the mere fact that the difficult part of the cycle will end eventually. Rather, my optimism is based on a belief that we will be freed by a new generation of leadership heroes in business and politics. These new leaders will actively navigate today's most pressing economic, social, and political challenges and help us emerge from this cycle as a stronger country.
Leadership doesn't always come from expected places. It arises due to demanding circumstances or the abilities of individuals who arrive in the right moment. In the previous Fourth Turnings outlined by Howe, there are some obvious names who came to light as heroes of their respective times: George Washington triumphed over King George III, Abraham Lincoln rose above the South's rebellion in the Civil War and Winston Churchill stood in the gap to defeat Nazi Germany in World War II. All had to actively overcome chaos and long odds to lead their people out of darkness. They did not expect success to come by waiting around passively.
But as the 2024 election cycle approaches, we need to understand that real change often comes from corners outside the spotlight. During the Civil War, our nation was being held together by Lincoln's resolve and ability to defeat the narrative of a hostile national press. He did so by appealing directly to the American people by placing a series of letters in newspapers nationwide.
Other individuals emerged from unlikely places during the Civil War to lead America to new heights. One such hero was Harriet Tubman. She was an abolitionist, humanitarian, and an armed scout and spy for the United States Army. As a "conductor" on the Underground Railroad, Tubman performed 13 missions to rescue as many as 3,000 enslaved people. She became known as "Moses" to many. Tubman was also a powerful advocate for women's suffrage. Her bravery, ingenuity, and commitment to freedom and justice surfaced during one of our nation's darkest periods, and she continues to inspire people around the world today.
I take comfort in the idea that Americans have always pushed forward in difficult times. History offers a guide to what we can expect in the future. In the new war, the front is America and the conflict is taking place on an economic battlefield. Superhero leadership must emerge in business and politics to restore the values that have served as the foundation for free market capitalism. They must be willing to challenge the barriers standing in the way of our wealth building principles, including a complicit media. As Plato told us centuries ago, "Seek the truth as if it were your last breath."
One conflict that will need to be settled is America's need for energy independence. Leadership must be able to solve the debt ceiling crisis as well as challenge the runaway ESG and climate change agendas opposed by a growing number of economists, scientists and politicians (See Kansas' anti-ESG bill and Vanguard's opposing position to that of Blackrock). While the motives may be just, the tactics and timetable are at best, questionable. This will be at the center of the war on markets, in addition to monetary policy, regulations and stubborn inflation.
What is at risk? America's world leadership? Our people and our values? Our economy? What will happen to America after five more years of a "cold civil war"? How do we protect our families and our wealth? So much to be answered.
We may be early with our thoughts about 2024. But doing so is why we started A Further Look. As financial advisors, identifying threats to your hard-earned capital and seeking investment and wealth planning solutions is baked in to our thinking. We have always tried to reassure readers that we are going to be alright – and I believe with all my heart that it is still the case. But as I stated, the time has come for new leaders to step up – in business, in families and of course, in Washington. Maybe that leadership can start with you and me.
Thanks for reading.
This material has been provided for general, informational purposes only, represents only a summary of the topics discussed, and is not suitable for everyone. The information contained herein should not be construed as personalized investment advice or recommendations. Rather, they simply reflect the opinions and views of the author. D. B. Root & Company, LLC. does not provide legal, tax, or accounting advice. Before making decisions with legal, tax, or accounting ramifications, you should consult appropriate professionals for advice that is specific to your situation. There can be no assurance that any particular strategy or investment will prove profitable. This document contains information derived from third party sources. Although we believe these third-party sources to be reliable, we make no representations as to the accuracy or completeness of any information derived from such sources, and take no responsibility therefore. This document contains certain forward-looking statements signaled by words such as "anticipate," "expect", or "believe" that indicate future possibilities. Due to known and unknown risks, other uncertainties and factors, actual results may differ materially from the expectations portrayed in such forward-looking statements. As such, there is no guarantee that the expectations, beliefs, views and opinions expressed in this document will come to pass. Information presented herein is subject to change without notice and should not be considered as a solicitation to buy or sell any security. All investment strategies have the potential for profit or loss. Asset allocation and diversification do not ensure or guarantee better performance and cannot eliminate the risk of investment losses. The impact of the outbreak of COVID-19 on the economy is highly uncertain. Valuations and economic data may change more rapidly and significantly than under standard market conditions. COVID-19 has and will continue based on economic forecasts to have a material impact on the US and global economy for an unknown period.
David B. Root, Jr.
Founder & Chief Executive Officer