A Further Look | Jun 20, 2023
Harnessing the Power of Artificial Intelligence to Empower a Team of Experts
David B. Root, Jr.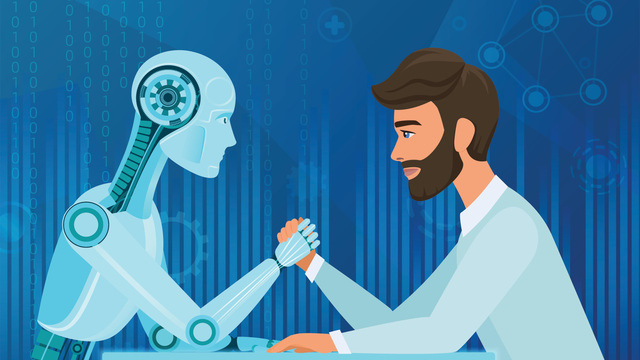 On Wall Street and on Main Street, Artificial Intelligence (AI) is today's biggest story. In fact, some are suggesting its long-term impact may far surpass the introduction of the internet and cell phones in terms of changing the way we live. I experienced that time when starting DBR & CO in 1994. At the time, I was admittedly a little skeptical on the impact of the internet. I actually questioned whether it was just a fad during a firm meeting! None of us could have predicted the full extent of its impact on our future, and most of us weren't ready to seize the opportunity it presented.
I won't make that mistake this time. In fact, I am surrounded by a young team of experts - MBAs, CFAs, CFPs, and other forward thinkers who not only embrace technology, but also strive to master it. This poses enormous competitive benefits for our firm, and more importantly puts us in a position to serve our clients in ways not imagined only a short time ago. I'm thankful to have a young team that can create a whole new world of opportunity for our clients using AI.
How will we do so you might ask? We invest in it and invest in our team's ability to leverage it. The sooner we embrace AI's capabilities – not without a healthy dose of skepticism I might add – the sooner we can assess its full potential. Our clients are counting on us to figure out how to channel AI's enormous power to their benefit, both as an investment opportunity and as an extraordinary tool. Our diligence and experience investing through similar technological adoption cycles will help us recognize any signs of a possible bubble in AI and AI-adjacent stocks while at the same time, we understand the possibility of the next Amazon likely exists, and may provide attractive investment returns along the way.
To successfully incorporate AI into our business, we need to successfully manage it. Going forward, decisions are required to determine who will do what and what may be best served by AI's capabilities. What are our talented people best suited to do and what is best served by technology? At the click of a button, tasks can be completed that previously required large teams to perform. Analyzing huge datasets of investment information immediately comes to mind. Fortunately, our tech-savvy employees are also grounded by common sense and devotion to the client-centric processes we have created. How does our team of experts keep the mission in place while harnessing these exciting technological advances?
I recently experienced a great example of such a challenge when I hosted a day of golf at Inverness Club, a storied Donald Ross gold course in Ohio with a friend of mine. He is a successful private equity investor who is also a golf course design enthusiast. He has made it his mission to play on some of the most well-designed courses in the world, but had never golfed Inverness in his 70 years. He marveled at the classic greens complexes and the design of the course which was founded in 1903. Over the years, much of the course has been updated to maintain its world class status, but the basic design has remained timeless. The course's team of experts has done a masterful job maintaining its competitive edge to remain a US Open-ready course. Inverness has hosted four US Opens and on-the-path to hosting a fifth. In fact, golf legend Bobby Jones played in its first US Open nearly 100 years ago. It is proof that with a solid foundation, it is possible to modernize and update without losing your core values. You can't let yourself become a cow pasture!
We couldn't help talking business that day. We discussed how stock valuations are at an all-time high. He offered, "A decline has to be coming, right?" I told him that if so, "It doesn't change the process. We can't predict the future." We don't change the process because we can't time the market. During uncertain times, we put ourselves in a position to lose less. We take advantage of the tools available to us - cash, short duration bonds, mega cap stocks that pay dividends, and other low-risk options.
My golf partner and I also shared our thoughts on ESG investing, and how it – like other investment trends of recent years such as SPACs and cryptocurrencies - remains unproven. While AI is proving itself every day, ESG, SPACs, and cryptocurrencies have had a difficult time demonstrating their ability to create durable value for investors and the economy.
So how can AI support an advisor in serving their clients? Here are a few examples of the powerful tools available:
Natural language processing (NLP) can assist our research in identifying trends, understanding market sentiment, and monitoring relevant news that may impact investments.

Machine learning algorithms can analyze historical data, market trends, and other factors to help analyze future risk scenarios.

AI algorithms can detect patterns and anomalies in financial transactions, helping to identify potential fraud or suspicious activities. By analyzing large volumes of data in real-time, AI systems flag unusual transactions, enabling financial advisors to take appropriate actions and protect their clients' assets.

AI can leverage large financial datasets to identify personalized financial planning strategies such as tax optimization.
Like any tool or model, the AI resources available today are only as good as their inputs. These remain limited today, but are growing exponentially each day. Otherwise, it's garbage in, garbage out. While Artificial Intelligence can provide significant benefits to financial advisors and clients by leveraging their time more efficiently and providing a better outcome, human expertise and judgment remain crucial in determining the proper inputs to feed the model and interpreting the quality and reliability of the output. Keep in mind what I learned almost 30 years ago, world-changing technological improvements are useless if you do not take the time to understand them and don't have a team of experts at the controls.
Thanks for reading.
This material has been provided for general, informational purposes only, represents only a summary of the topics discussed, and is not suitable for everyone. The information contained herein should not be construed as personalized investment advice or recommendations. Rather, they simply reflect the opinions and views of the author. D. B. Root & Company, LLC. does not provide legal, tax, or accounting advice. Before making decisions with legal, tax, or accounting ramifications, you should consult appropriate professionals for advice that is specific to your situation. There can be no assurance that any particular strategy or investment will prove profitable. This document contains information derived from third party sources. Although we believe these third-party sources to be reliable, we make no representations as to the accuracy or completeness of any information derived from such sources, and take no responsibility therefore. This document contains certain forward-looking statements signaled by words such as "anticipate," "expect", or "believe" that indicate future possibilities. Due to known and unknown risks, other uncertainties and factors, actual results may differ materially from the expectations portrayed in such forward-looking statements. As such, there is no guarantee that the expectations, beliefs, views and opinions expressed in this document will come to pass. Information presented herein is subject to change without notice and should not be considered as a solicitation to buy or sell any security. All investment strategies have the potential for profit or loss. Asset allocation and diversification do not ensure or guarantee better performance and cannot eliminate the risk of investment losses. The impact of the outbreak of COVID-19 on the economy is highly uncertain. Valuations and economic data may change more rapidly and significantly than under standard market conditions. COVID-19 has and will continue based on economic forecasts to have a material impact on the US and global economy for an unknown period.
David B. Root, Jr.
Founder & Chief Executive Officer