Company News | Jan 09, 2018
D.B. Root's Director of Flagship Client Services, Adam Souply, Earns Highly Respected Chartered Financial Analyst
Adam M. Souply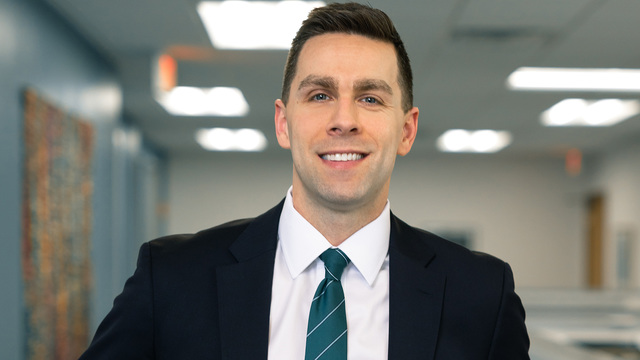 D.B. Root & Company's Director of DBR Flagship Client Services, Adam Souply recently earned the Chartered Financial Analyst® (CFA®) credential; the most respected and globally recognized investment designation in the world. Only 1 in 5 candidates becomes a CFA® charterholder. It requires 1,000 hours of intense study, three 6-hour exams and 4 years of work experience.
Mr. Souply plays a pivotal role in managing relationships and the portfolios of D.B. Root's High Net Worth clients. Working with Flagship Managing Director David Hoffmann, CFP®AIF®, he is responsible for providing comprehensive and unbiased financial planning and wealth management services in both a relationship manager and portfolio manager role.
"Adam is one of the rising stars in our business, and he has proven to be a huge asset to both our firm and our clients. His achieving the CFA® designation is testimony to his laser like focus on details and his passion for the industry and assisting clients. It will serve him well as he continues to grow as a professional," stated D.B. Root & Company Founder and CEO, David Root, CFP®.
Mr. Souply is a key member of D.B. Root's Strategic AIM™ Asset Allocation team that focuses on allocation strategies that are simple, low cost and transparent, while adhering to the firm's strict fiduciary standard. He is also an active member of D.B. Root's internal Investment Committee, which is responsible for developing asset allocation advice geared to meeting specific client goals.
Mr. Souply joined D.B. Root & Company in 2014 after spending eight years in the Asset Servicing division of one of the industry's largest banks, BNY Mellon. He holds a B.S. degree in Business Administration (Finance/Investment Management Major) and MBA from Duquesne University, where he also received a basketball scholarship.
The CFA® charter is a credential awarded by the CFA Institute to individuals who meet its education, examination, sponsorship, experience and ethics requirements. To earn a CFA® charter, eligible candidates must have four years of qualified investment work experience, become a member of the CFA Institute, adhere to the Code of Ethics and Standards of Professional Conduct on an ongoing basis, and complete the CFA® program, which requires the passage of three separate six-hour examinations. Topics tested by the CFA Institute include ethical standards, quantitative methods, economics, financial reporting, corporate finance, equities, fixed income, derivatives, alternative investments, and portfolio management.
*CFA Institute 2017 www.cfainstitute.org
This material has been provided for general, informational purposes only, represents only a summary of the topics discussed, and is not suitable for everyone. The information contained herein should not be construed as personalized investment advice or recommendations. Rather, they simply reflect the opinions and views of the author. D. B. Root & Company, LLC. does not provide legal, tax, or accounting advice. Before making decisions with legal, tax, or accounting ramifications, you should consult appropriate professionals for advice that is specific to your situation. There can be no assurance that any particular strategy or investment will prove profitable. This document contains information derived from third party sources. Although we believe these third-party sources to be reliable, we make no representations as to the accuracy or completeness of any information derived from such sources, and take no responsibility therefore. This document contains certain forward-looking statements signaled by words such as "anticipate," "expect", or "believe" that indicate future possibilities. Due to known and unknown risks, other uncertainties and factors, actual results may differ materially from the expectations portrayed in such forward-looking statements. As such, there is no guarantee that the expectations, beliefs, views and opinions expressed in this document will come to pass. Information presented herein is subject to change without notice and should not be considered as a solicitation to buy or sell any security. All investment strategies have the potential for profit or loss. Asset allocation and diversification do not ensure or guarantee better performance and cannot eliminate the risk of investment losses. The impact of the outbreak of COVID-19 on the economy is highly uncertain. Valuations and economic data may change more rapidly and significantly than under standard market conditions. COVID-19 has and will continue based on economic forecasts to have a material impact on the US and global economy for an unknown period.
Adam M. Souply
Senior Financial Advisor